A native of Boston, Larry Guihan holds a bachelor's degree in public accounting from the State University of New York at Albany and a master's degree in finance from Bentley College in Massachusetts.

At 25, Larry became one of the nation's youngest CFOs of a public company, United Overton Corp., a retail and catalog mail order firm.

Later, as Vice President/Controller of Pizzeria Uno Corporation, Larry guided the company through its successful, initial public offering and increased its market capitalization to $150 million, up from $10 million, in four years.

He has also served as the CFO of Grand Circle Travel, a $100 million direct mail travel company.
Part Time CFO Services
In 1993, Larry founded FinancExecutives, a part time CFO financial management firm, serving companies with sales between $1 million to $50 million.
Larry also serves as an Emeritus Trustee for MAB Community Services, a $12 million social services agency for the visually disabled, which is located in Boston.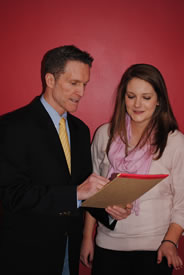 "Our goal is to show the CEO/President how to improve the firm's bottom line. We offer the fresh perspective of a consultant with the hands-on familiarity of an employee."
- Larry Guihan